Hohoooo, Halloween päivitys! Eihän tässä kestänny ku... en viitsi edes laskea :D
No mutta kuitenkin. Mentiin tosiaan Jukan kanssa Tanjan Halloween juhliin. Harmitti etten voinut oikein meikata kunnolla kun silmien laser leikkauksesta oli vasta viikko, joten silmät ärsyyntyi vielä aika herkästi. Oikeastaan ärsyyntyy edelleen. Onneksi tosiaan se pieni piipahdus siellä Kampissa tarjosin ratkaisun. Ainoa vaan, että kun pidin koko illan sitä pitsi-maskia, niin oli sitten seuraavana päivänä otsa täynnä hiki-näppylää :D vaikka siis putsasin naaman illalla huolellisesti. Oli silti. Oikein kunnolla. Naama itseasiassa muutenkin jostain syystä suuttui meikistä ja mulla kukki naama seuraavat kaks viikkoa T___T blaah....
No mutta siitä selvinneenä, tässä tosiaan Halloween kuvat :)
Woohoo, Halloween update! Took me... what... I don't even wanna count how many weeks :D
Anyway... We went to Tanjas Halloween party. I was a bit bummed out cos I couldn't really put on makeup cos it had only been a week since my laser eye surgery. But thankfully I had the lace-mask to wear. Tho after wearing that thing the whole night made my skin brake out in pimples.... Fun! :D Even tho I did clean my face thoroughly after. My entire fave actually broke out because of the makeup. I had to deal with the pimples for the next two week.... T___T Blaah...
But I survived and here are the Halloween pictures :)
Eli kun en siis voinut panostaa omaan meikkiini niin panostin sitten Jukan maskiin :D Tässä on ensimmäinen harjoitus kerta, kun kokeilin että miten se valkoinen puuteri levittyy ja osaisinko tehdä varjostusta jne.
So because I couldn't really put any effort with my own makeup, I did so with J's mask :D Here is the first practice run I made, I was trying out the white powder and the shadows etc.
Ymmärtänette varmaan miksi mua himottaa tehdä Jukalle jossain vaiheessa Joker maskit >8) Buah...
You might understand now why I really wanna turn J into the Joker at some point >8) Buah...
Sitten perjantain versio jonka tein Jukalle sen duunin Halloween päivää varten :)
Then the friday version I made for him to wear at work :)
Jukka the friendly zombie :D
Sitten se viimein versio lauantai illalle :) Tällä kertaa lisäsin harmaan sekaan hieman ruskeaa tuomaan hieman sellaista aitoutta mukaan :D
Then the final version for saturday nights party :) This time I added some brown to the grey so it would look a bit more real :D
I think this was the best one :D
Sitten mun lookkini :D
Then my look :D
Tossa tosiaan näkyy siis koko setti x) Eli tosiaan toi pitsi maski, hampaat ja sitten korvikset sekä kaulakoru jotka tein tosiaan itse.
Here you can see the whole set x) The mask, the teeth and the earrings and necklace that I made myself.
Tein myös valkoisen sekä mustan hiusklipsin, mutta valkoinen jäi käyttämättä kun asussa ei ollut mitään valkoista. Ja musta tuli Tanjalle :)
I also made a white and a black hairclip, but I didn't use the white one at all cos I didn't have anything white on my outfit. And the black one was for Tanja :)
And here's the party :)
Tanja had decorated the whole house and it looked frigging fantastic! It's actually a lot darker than in this picture, but the camera made it look brighter :D Tanjan koristelut ja luoma tunnelma oli ihan mahtava! Siellä oli itseasiassa paljon hämärämpää mutta kamera valotti sen sillein ihan ku siel olis ollu ihan kirkasta :D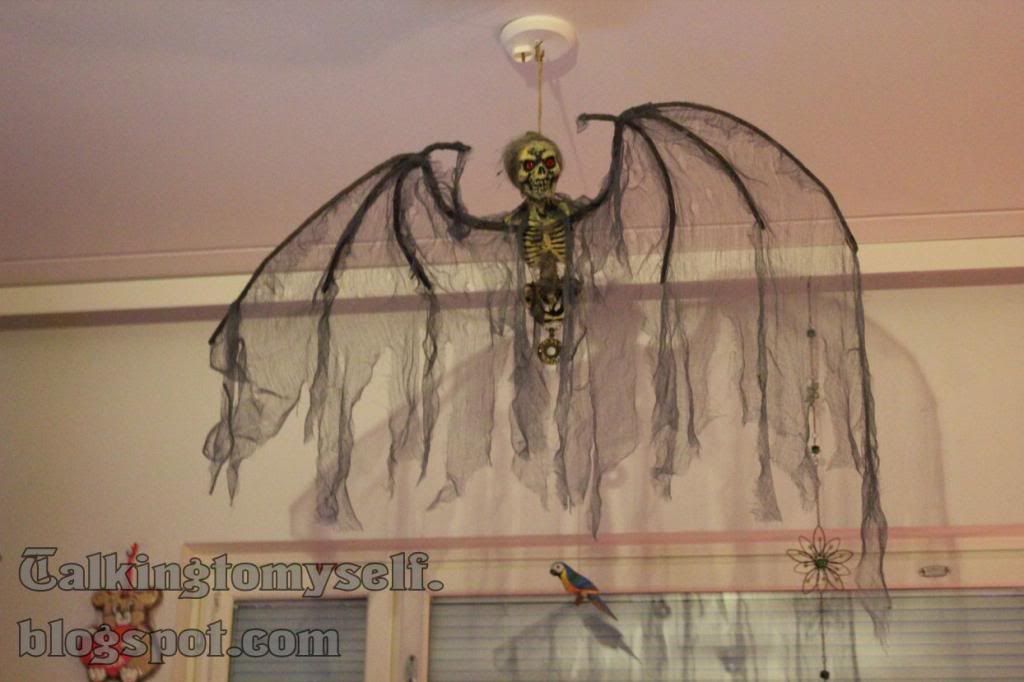 All the essential decoration <3 Kaikki asiaan kuuluvat koristeet löytyi <3
Those cupcakes that Tanja made; YUMMY!! <3
Always has to one who's not looking at the camera xD
Tumppi and the art of photo-bombing xDDD lol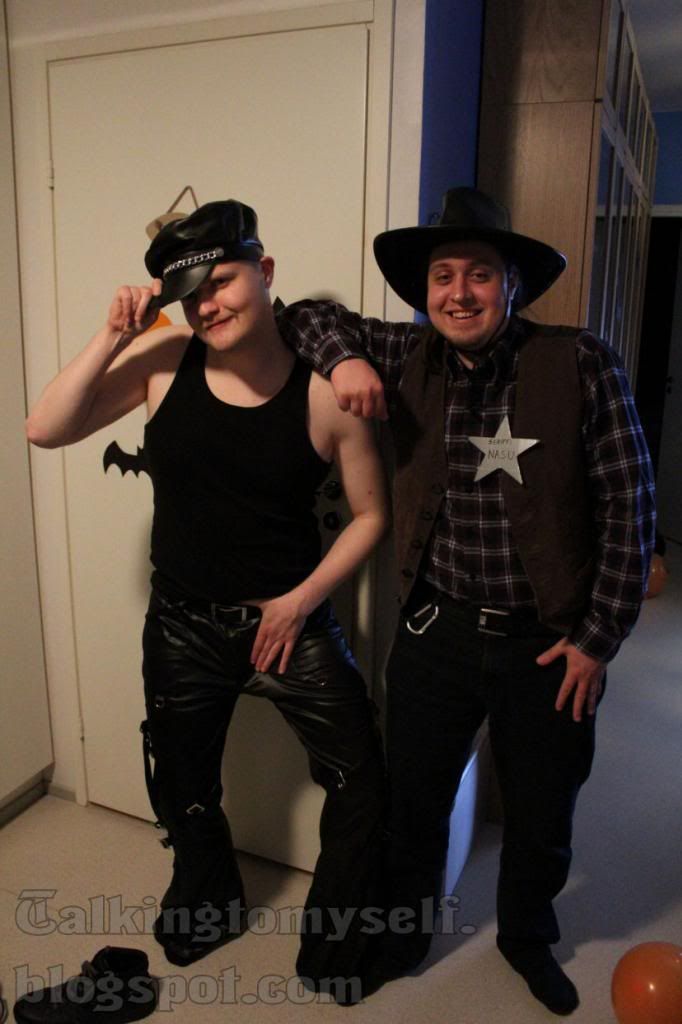 Our own Tom of Finland and the sheriff :D
"lol" :D
One of Tanjas pictures :D
xD
Jukka the friendly zombie indeed :D
Tanja looked sooo pretty <3 She actually has the black bat hairclip on here, but its so dark that it was impossible to get a picture where it showed :D Tanja oli niin ihana näköinen <3 Harmi vaan ettei sitä mun mustaa lepakko hiusklipsiä saanu hämäryydent takia millään ilveellä näkyviin :D
Ja siinäpä se sitten olikin :D And that was it basically :D
Tosin sitten vielä innostuin ottaa kuvan bileiden jälkeisestä hiuspehkostani :D
Tho I just had to take a picture of my the day after-crazy-hair :D
It actually looked almost better than at the party xD
So that was my Halloween :)