Finally finished the Rainbow dash-cutie mark that I got request/commission from DA :)
I'll let the pictures speak for the selves!
Sain vihdoin valmiiksi tilauksen jonka sain Deviantartista :) Kuvat puhukoot puolestaan.
Work in progress/ Välivaihe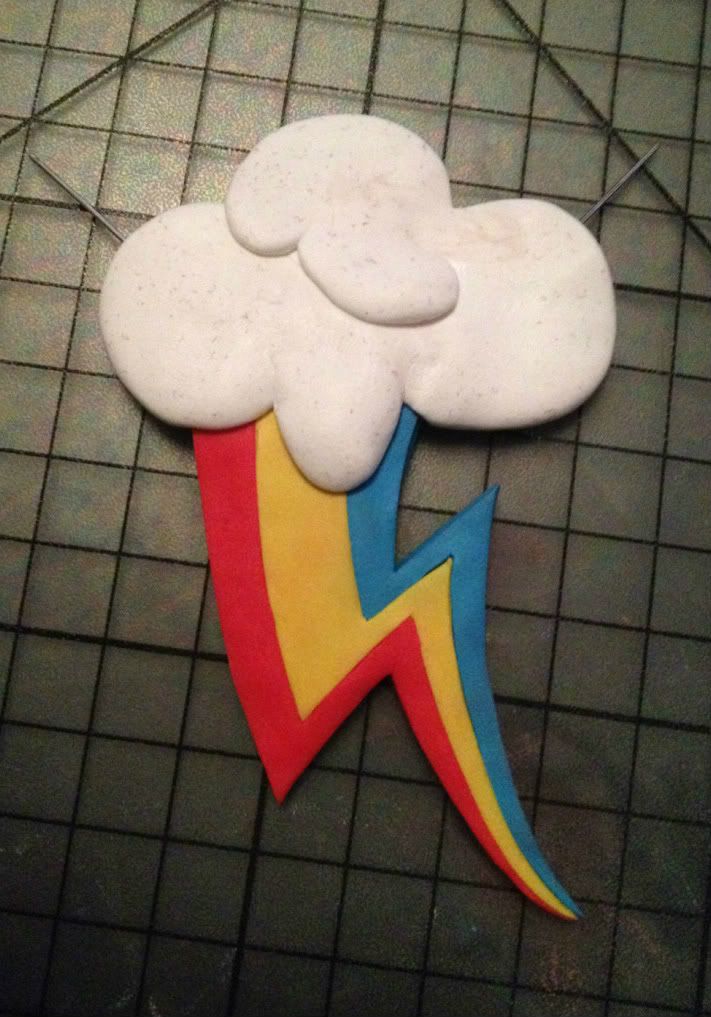 Without the blue lines and with the black fuzz / Ilman sinisiä reunoja ja näkyy ihanasti toi musta nöyhtä joka tarttuu tohon valkoiseen aina niin pirun helposti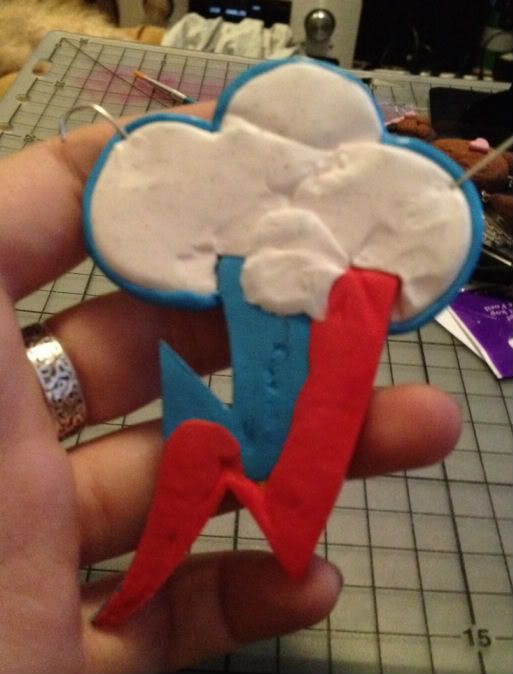 The finished product from the back/ Valmis koru takaa päin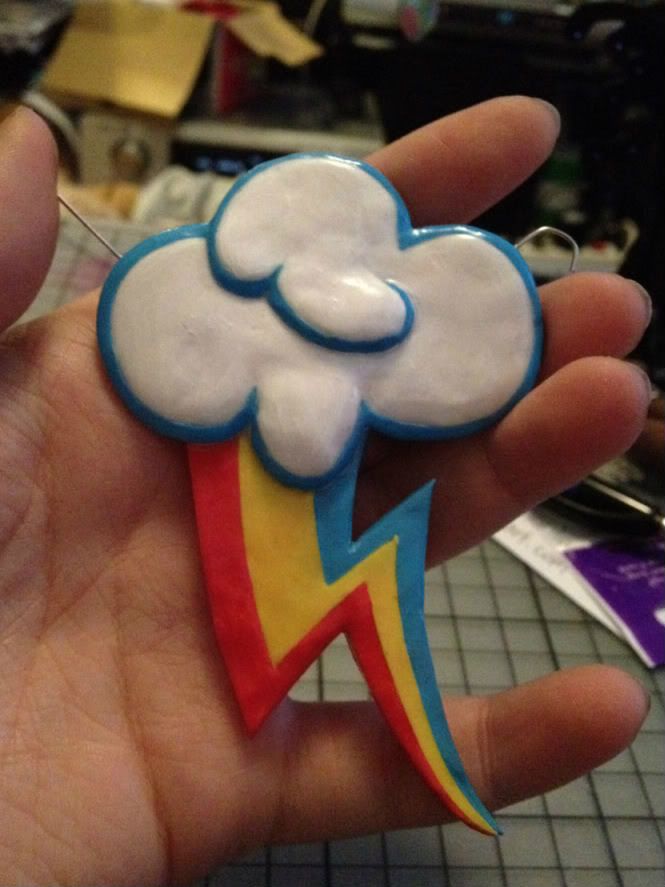 Finished cutie-mark in hand to show size/ Valmis koru kädessä osoittaakseni koon
Raindbow Dash cutie-mark
So this a fanart-piece for a My Little Pony-fan, that I am myself also. Rainbow dash rules :D I have friend who made me watch the new series tho I was a fan of the old original. But had to agree that the new series is pretty good :3

This piece was challenging x) But I made it :D First of all, I HATE working with white fimo, cos we have a lot of black fuzz floating around in our house and even tho I clean my working space and my hands thoroughly before I start, still the white ends up being covert in black fuzz... So here I solved it by painting a thin layer or white on top of after sanding it a bit.
It looks really nice but I hate it that the more I stare at it, the more my perfectionist eye starts to find flaws in it x'''( That's why I hate it that I'm a perfectionist, cos my skills are not good enough to satisfy my perfection-demanding eyes :D
But I still hope that my customer likes it :)
Elikkä tää on My Little Pony koru fanille, joka mäkin kyllä olen, fani siis. Rainbow dash on niin paras x) Mulla on ystävä joka pisti mut kattoo sitä uutta sarjaa vaikka olin enemmän lojaali sille alkuperäiselle vanhalle sarjalle. Mutta pakko se on myöntää, että ihan hyvä se on. :3
Tää oli kyllä aika haastava, mutta sain sen sitten kuitenkin valmiiksi :D Kun siis mä niin VIHAAN käsitellä valkoista fimoa, koska jostain syystä meillä leijailee paljon mustia hituloita joka paikassa, ja vaikka putsaan aina työalueeni ja käteni huolellisesti ennen kun alotan niin silti fimo on sitten täynnä sitä haituvaa.... Joten tein sitten niin että ensin hioin sitä hieman hiekkapaperilla joka poisti hituloita jo jonkin verran ja sitten maalasin vielä akryylivärillä ohuen kerroksen siihen päälle.
Se näyttää todella kivalle mutta mua niin raivostuttaa se että kun mitä enemmän sitä tuijotan niin sitä enemmän mun perfektionistin silmä löytää siitä vikoja ja virheitä x'''( Siksi mä vihaan sitä että mä oikeasti olen perfektionisti, koska mun omat taidot ei riitä tyydyttämään mun täydellisyyttä vaativia silmiä :D Mutta toivotaan nyt kuitenkin että asiakas pitää siitä :)
ADD: My customer has informed me that she is very satisfied *little happy cry* <3