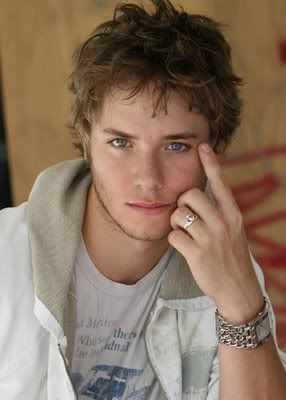 Jeremy Sumpter
Tho I was just little bit put off by how he grabbed the girls boob at one point, later in the film. That is NOT how you fondle/grab/caress/what-ever a girls/womans tits! My god, no no no. But I guess it's fine when he is, indeed, a teenager in the film. So thats that. Funny how this is a thing from the movie I obviously want you guys to remember, hahah.
I usually don't go for the pretty-boy-look, but with him I gotta make an exception. I just wish that I'd see him in better and bigger roles. Somewhere where he could just really let lose, and become something big.
He just has that thing, that is very hard, or even impossible to describe by words. That silent confidence, strong charisma and ability to just force his way to your soul just by looking at you! Mmm...
It's a shame tho, that I don't think that his own personality would be something I'd enjoy. But on the other hand, it would be massive torture to know, that there is indeed a perfect man, across the ocean, dating these hot hollywood women, and wouldn't even look twice in my way. Aaaaand on some other hand, the man isn't perfect if he woudn't look twice my way. I might not be the perfect girl, and I'm not a model of your dreams, but I do deserve another look from a guy. And that is something more women and girls should realize. If a guy, even if the man of your dreams, doesn't pay attention to you, even after several tries, then he isn't the man you thought he would be! Cos why on earth would you want to be with a man who doesn't give a crap wether you're alive or not! Do you really have so little of self-respect? Really!? Do you really think that little of yourself, that even when a guy is ignoring you and/or being rude or what ever, he is still the dreamiest guy on earth? Really?! This is something that I've never really understood.
And then there's the issue of falling in love with a guy, and falling in love with the guy you thought/wanted him to be. Most girls/women can't tell those two apart, who he really is and who you want/imagine him to be. (Men do the same, probably even more when it comes to beautiful women). You CANNOT fall in love with a person that you don't know! Thats a fact. But what you can do, is to create a personality to that person in your head and fall in love with that. As I said earlier in this post, I usually fall in love with the picture that is colored by my imagination. This is what I meant by that.
It's such shame that most good looking men are mostly idiots. They are arrogant, cocky, stupid, and all that crap. I just would be so nice to find a man who really can make you laugh in the right way, likes the same things as you do, and would be the kind of attractive that you find attractive (cos there is a lot of different kinds of attractiveness!). Oh wait, haha, silly me, I have found that! And I've been with him for the last four and a half years.